Kings Muscateer CTA
Feb 2005 Bay Tri-Colored Tobiano Pinto Coloured Arabian Stallion
Sibling to unanimous World Champion Pinto Arabian Stallion,
My JigSaw Puzzle and his 2005 TT World Champion Pinto Arabian sister, Starlight Express CTA.

2006 CHAMPION - Any breed - Any type of horse- Youngstock -Coloured Horse Championships UK
2006 RES. CHAMPION Coloured - National AHS Show
2006 RES. CHAMPION Coloured - Ponies UK Championship Show
2005 PtHA TT WORLD CHAMPION Stallion at 16 weeks old - first show USA.

( pictured as a yearling and 15.2 hands tall!
Look at the beautiful Arabian eyes, head and neck on this yearling coloured stallion)

Congratulations to Sharon Thorne, Kings Owner and Handler!
SHARON THORNE
THORNLEIGH ARABIANS
LEIGH LANCASHIRE
UNITED KINGDOM
ENGLAND
Click Here to Read More about King and see online videos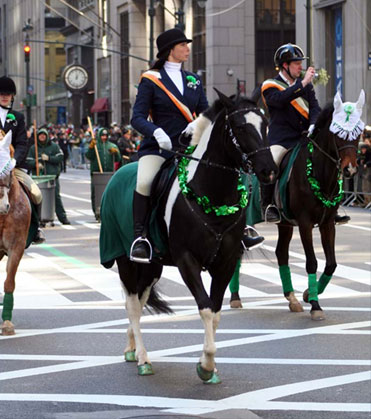 Congratulations to Cassie and Dawn in riding in the
2008 New York City 5th Avenue St. Patrick's Day Parade!
Dawn trained Cassie under saddle herself. What a great
accomplishment for the youngest horse in the parade at
not quite 4 years old!

Pinto Arabian foals and horses for sale!
The pictured foal below was born on Jan 11 2008. She is a tall beautiful Black and White Tobiano Pinto Arabian Filly.
Kachina Sky Bars CTA is a full sister to multiple World Champion Pinto Arabian filly, Black Chaytan CTA.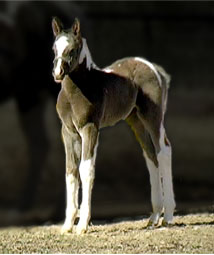 April 2008 beautiful tri-coloured Pinto Arabian foal .
Full sister/brother to TT World Champion Kings Muscateer CTA,
who was exported to England, UK as a weanling and is currently winning shows over seas! This foal will also be a full sibling to Jewel of TheNile CTA is a true Half-Arabian Sport Horse with the Tobiano Tri-color Pinto markings. She is pictured below at 2 months old . She is a natural jumper with a lot of athletic ability
from her Paint Arabian breeding.

Click here to c heck out our other foals and horses for sale with online videoes.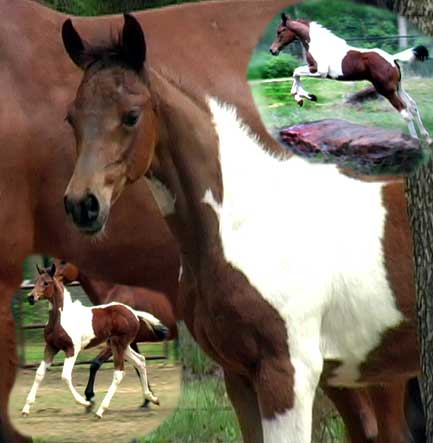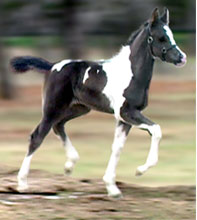 We are offering for sale a Champion bred
Black and White Pinto Arabian mare that is
a full sister to the 2006 filly pictured above as well
as a full sibling to a 2007 weanling Multiple World Champion black pinto arabian filly
that you can see online videos and photos of on our sale pages.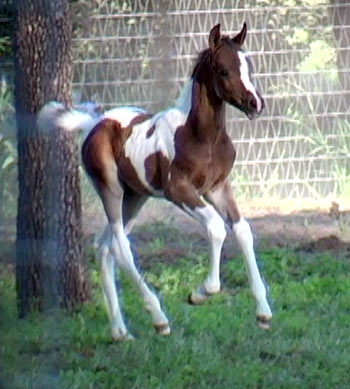 Tri-Colour Pinto 63/64 Arabian 2007 Colt pictured above.
This colt will be a Pintabian producer of 99+% Arabian Pintos when bred to Arabian mares.
Pictured at 3 weeks old. We will be breeding for full brother/sisters in the future that will be offered for sale.

Tri-Colored Pinto Arabian foals for sale by our
Double Homozygous Black Tobiano Pinto Paint Stallion,
a sire of multiple World Champions.
Sale foals will be brothers/sisters to World Champion brother/sisters!
Check out our Pinto Arabian Foals we are expecting in 2009 and will be for sale here.
Click here to see our Sales List of Arabian, Half- Arabian, Pinto Arabian horses for sale.
We also breed purebred Arabian Sport Horses.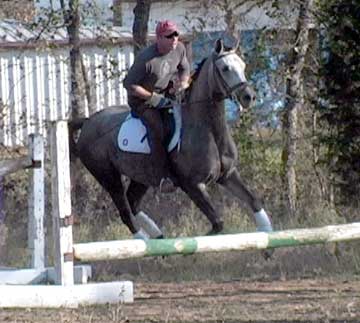 Jumping, Dressage, Eventing , Endurance
Arabian Sport Horses that are tall, beautiful and athletic.
See online videos of Haliberry Bey CTA first time over the jumps.